Image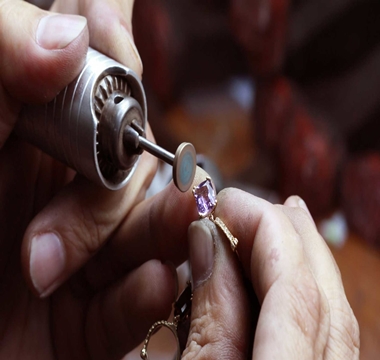 RING SIZING
When one size doesn't fit all!
At Fast-Fix Jewelry and Watch Repairs, we take pride in the quality of our work-especially, ring sizing. Being able to size a ring properly is an important skill when you're a jeweler and we know it's right when the customer says "I can't even tell where you sized it!". When sizing a ring larger or smaller, we take care to make sure that if stones are present the prongs are tight and the stones are in place after the work is finished.
All of our jewelers have had years of experience at the bench and are well versed in the art of ring sizing. It takes great skill to cut the back of the ring, add a piece of gold and blend it in with the style of the ring while making sure the back of the ring is not thinned out. Sizing a ring smaller can present even more difficulties. Our jewelers spend the time to check the center and side stones; guaranteeing they stay in place after we size the ring.
Sizing a ring with a large center stone presents special difficulties as it has a tendency to flip around on your finger. At Fast-Fix Jewelry and Watch Repairs, our jewelers specialize in solutions for sizing your ring so that it's comfortable on your finger and stays in place. Let us show you all of the different solutions available so you can wear your ring with style and pride.
For those of you with painful arthritis and beautiful rings-you have a problem! It's difficult to wear your rings when you can't get them over your enlarged knuckle. At Fast-Fix, our jewelers specialize in expandable shanks and other solutions so that you can wear your rings again.
If you got a ring today, stop by Fast-Fix and let us get you ready to wear it tonight! Feel free to shop, enjoy a cup of coffee or simply watch while we size your ring and get you on your way. We do all of the work right in front of you so you never have to worry about whether or not you're getting "your" stone back.  At Fast-Fix Jewelry and Watch Repairs, we do all of the work while you watch and while you wait for a worry free ring sizing experience.